May 2020- May 2020- New model home available now at Lake Forest North Subdivision.
April 2020- Regency Builders unveils a move-in ready home in Amherst. Check out the article here
August 2019- Only 4 homesites remain at Lake Forest North.  Call today to reserve your homesite.
April 2019-Coming Soon to WHEATFIELD, NY…Late Summer 2019!
March 2019-Regency Builders is proud to announce its participation in the 2019 Horizons Tour of Homes.
February 2019-Move-In Ready homes now available!
January 2019-Homesites Available at Harris Hill Commons Phase III- CONDO Tax-Status!
December 2018- Builders is proud to announce it's 2019 "Regency Collection of Homes".
November 2018-Coming soon to Lancaster NY!
October 2018-Special October Pricing Promotion for Lake Forest North, Amherst. Call today for details! Offer ends 10/31/18.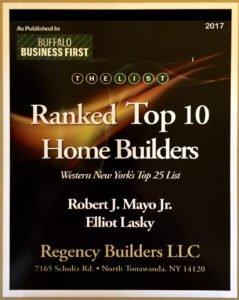 September 2018-For the second straight year in a row, Regency Builders LLC has been recognized as one of
WNY's TOP 10 HOME BUILDERS 2017 by BUFFALO BUSINESS FIRST "The LIST".
A BIG Thank you to The Regency Team, and to all of our Valued Customers!
August 2018-We are proud to officially announce a Regency Builders Exclusive Community in Clarence, NY!  Welcome Home to Roxberry Estates Phase III/ Helenwood Drive.  Now Taking Homesite Reservations!!! (716) 517-7439
July 2018-Regency Builders LLC is Proud to Support ROSWELL PARK Comprehensive Cancer Research Center, by participating in the 2018 "Raising the Roof" campaign.
June 2018- Regency Builders LLC along with members of the Buffalo Niagara Builders Association, is "Raising The Roof" for Roswell Park Cancer Research. Read More Here: https://www.wgrz.com/…/buffalo-niagara-builder…/71-563890417
May 2018- Last Call for Roxberry Estates Condominiums, in Clarence. Condo Tax Status… Limited Homesites Remaining!
April 2018- Regency Builders announces that it will be participating in the 2018 HORIZON TOUR of HOMES.
March 2018-  NEW MODEL HOME COMING SOON… to LAKE FOREST NORTH (Amherst,NY) !!!
February 2018-  Now Taking Reservations for PHASE III at Harris Hill Commons Condominiums.
HUGE TAX SAVINGS!!! Limited Homesites Remaining.
January 2018-  Regency Builders LLC has been recognized by the Buffalo/Niagara Builders Association (BNBA)
as BEST NEW BUILDER 2017!